A competitive advantage for every executive
Our Advisory Boards adapt to your most pressing quarterly challenges and opportunities.

11,000+ senior executives at your fingertips. Leverage an elite network of over 11,000+ advisors that includes current c-suite and senior executives from 88% of the Fortune 500.


Meet quarterly with your advisors.

Work with our team to identify your advisory needs and let us help choose the right advisors, set schedules, manage agendas, and moderate your quarterly meetings.





Work with new advisors as your needs change. As your business needs change, work with our team to identify new advisors to help you take advantage of new opportunities and manage new risks.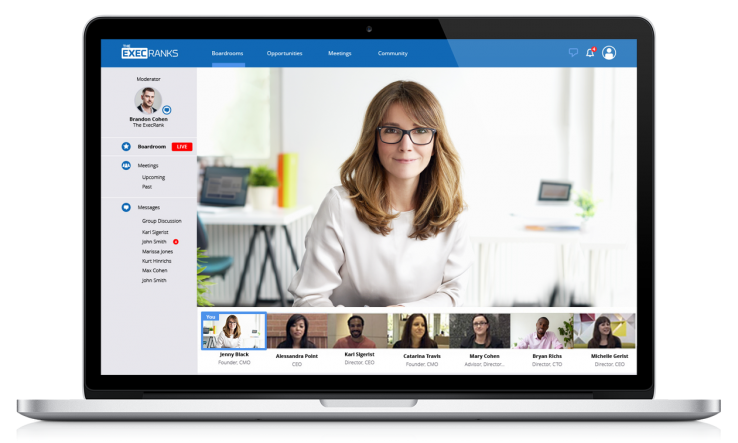 When you're a CEO or Senior Executive, every decision has implications on both your company and your career. Getting regular independent advice from executives who have been there before can make all the difference in your company's success and your career. This is the core value our innovative, flexible, and easy to use Advisory Board programs provide for senior executives and is the driving force behind the success of our corporate clients quarter after quarter, year after year.

For CEOs, Founders, and Presidents
Build a group of advisors that are uniquely equipped to help you drive growth for your business. Work with our team to handpick from our network of over 11,000 leading executives looking to share their knowledge with you.
For Founders and Startups
With The ExecRanks network of advisors, founders and startups are uniquely positioned to quickly take advantage of the insights available to fuel their companies growth.

For Other Executives
With The ExecRanks network of advisors, executives at all levels are using advisors to fuel their companies growth by getting access to advisors that provide strategic guidance, mentorship, key decision feedback, outside perspectives and more.

Other Ways to Use Advisors
Use our network of over 11,000 executives to find new board members, get high level market research and intelligence and more.

What Our Clients Are Saying
Fayez Nadem, CEO of Smartserve
"The ExecRanks was the bridge that connected our business with world class advisors! The ExecRanks was truly the key to unlocking a journey that we could not have started alone.

Phil LaColla, CEO of Alocito
"Many thanks to The ExecRanks for helping me find this distinguished group of advisors. I would not have come across these individuals using my traditional network."

Melissa Kargiannakis, CEO of Heuristext
"The ExecRanks gave us access to dozens of precisely matched and brilliantly qualified professionals I never would have otherwise found. I signed up on a Sunday and by Wednesday had interviewed and sent a letter of offer to the successful candidate."

Learn How to Drive Growth at Your Company by Leveraging the Power of Advisors.
Submit your information below and our team will reach out to you shortly.

Copyright ©2018 The ExecRanks, Inc